Blog
Can we disassemble an iPhone 5 to make spectacular iPhone frame decor?
Mar 29, 2022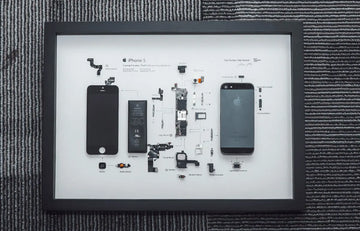 Anyone who talks about the iPhone will say it looks beautiful, of course, the incredible design, and expensive, someone may use that word.

But except for designers, no one knows what it looks like on the inside. Unless disassemble it, put all of its parts laid out and labeled on a board. Then, can we do it by ourselves?

The answer is yes.
An artwork named iPhone 5 frame
When I first browse the Xreart website, two questions started nagging at me: is Xreart's iPhone frame which was deconstructed by hand really a work of art? If so, can I get artwork like that finished product?

Turns out - it really can be a work of art. Xreart iPhone frame is by dismantling the device that reveals their inner beauty.

Take the iPhone 5 for example, one of the most classic smartphones of the 21st century, which was first published on September 21, 2012. Xreart iPhone 5 is a tribute to the iPhone 5, they build this iPhone frame by hand to present each part of the device through disassembling.

By carefully disassembling, arranging iPhone 5 parts, then putting all of it on the white board, showing every single component that comes together to form the iconic smartphone.
DIY an iPhone 5 frame
Back to the second question, can get an artwork like that finished product? If you are enthusiastic about DIY, Xreart is greatly meets your needs. They not only sell the finished products but also provides DIY kits and free download templates so that you can make your own artwork.

By the way, Xreart provides tutorials, too. So you don't need to search it on the internet but on their website. Please click here to see the tutorial. They will teach you how to tear down the display, the battery, the mainboard, the different modules, buttons, even the camera, speaker.

After tearing down the iPhone 5, paste the above components on the iPhone 5 layout paper. Don't worry, they were labeled every part of the iPhone 5, you just need to put all of its parts laid out on the board. Tips: if you are using B6000 glue, you need to place it horizontally for 2-24 hours before framing the disassembled phone.

BEST Gift for Tech lover


It is even more exciting to see that an old iPhone 5 can actually turn into stunning artwork by hand. More than that, you can clearly see every single wear and tear. Those are all traces of what has been used.

If your friends or partner are a tech-lover, a huge fan of Apple products, DIY an iPhone 5 frame is a good way to show you how much love them. You can also buy a finished product if you don't have too much time or are not good at DIY. Click here to choose a beloved gift for her/him.

By building this framed deconstruction artwork, Xreart can help you permanently preserve the tech products that are of special significance to you.

If you need to consult the disassembly tutorial for other models, click here.