Blog
Have an idle iPhone 4? Make it into an Amazing framed iPhone
Apr 09, 2022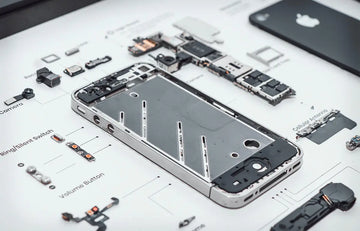 Are you still looking for a nice gift for a technology fan? Then we have a recommendation for you: Xreart frame.

Pretty epic.

My first iPhone was the iconic iPhone 4, which launched in 2011. I believe many of us might still have one. It's so classic that even if it doesn't work, I don't want to throw it.

Then how are we gonna do? Xreart has an idea.
An epic frame-iPhone 4

Instead of leaving it lying around in a drawer or even giving it for recycling, Xreart turns it into a work of art.

You may have seen some ads on social media for Xreart, a company that produces unique frames that disassemble the iPhone into individual parts and then presented them in a picture frame.

They currently have an iWatch and other products in addition to the iPhone, more than that, they also support DIY. One day, I made a decision. Turning my iPhone 4 into wall art. I clicked the website and ordered the Xreart DIY tools without much thought. After a couple of weeks of waiting, the kit and a white board in the empty frame finally arrived.

Now, let's take a trip back in time 11 years and see the iPhone 4 in a new way– as a piece of art!
How to tear down an iPhone 4

I have to say, it's very thoughtful of Xreart that they also have a teardown tutorial for each iPhone model! By the way, they added measurements labels on the white board, so that you can understand exactly what part it is. All parts on it, nothing is missing: the metal shell, the battery, buttons, SIM tray, the logic board with the A5 processor, and the cameras.

If you can't read the text tutorial, there are also video tutorials here.

After tearing down the iPhone 4, paste the above components on the iPhone 4 layout paper. Don't worry, they were labeled every part of the iPhone 4, you just need to put all of its parts laid out on the board. Tips: if you are using B6000 glue, you need to place it horizontally for 2-24 hours before framing the disassembled phone.
A unique gift you need


Following the tutorial to complete all of the steps above, I get my own iPhone 4 wall art that holds many memories of my past.
The iPhone 4 frame looks really fantastic. The black wooden frame, into which the real glass is embedded, hides the iPhone 4 disassembled into its basic parts, with a description of the individual parts. In the bottom left corner, there is a quote from Steve Jobs with "his signature". Everything looks perfect.

The unique design of Xreart, not only has iPhone frames but also has other products, like iWatch, Gameboy, PSP, etc. Many other products are in the pipeline, you can see a preview of them on Xreart's official site. I'm sure those products bring up some memories of those who have used them in recent years.