Blog
HOW TO ARRANGE YOUR WALL ART: THE COMPLETE DIGITAL TEARDOWN FRAME PLACEMENT GUIDE
Jun 16, 2022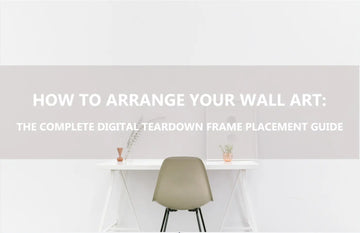 HOW TO ARRANGE YOUR WALL ART: THE COMPLETE DIGITAL TEARDOWN FRAME PLACEMENT GUIDE
Creating a wall of art is a wonderful way to enhance your space, showcase a beautiful teardown frame and tie an interior design together.
However, arranging artworks on a blank wall can be difficult.
That's why we created this guide. We will show you, step by step, how to arrange your wall art, and make your house place unique.
With these points, you can arrange your digital teardown frame personalizing it in the most beautiful way.
1. Choose Your Wall
First, decide which wall you want to hang your artwork on. Should you go for the large wall or smaller spaces?
Large walls need to be filled. Small pieces on an expansive surface can look lost and isolated, so don't be afraid to go big with one sizable work. Another good option is to create a grouping of pieces, and a spacious wall allows you to spread them out.
Smaller areas are the perfect places to display your more petite pieces.
Hanging isn't the only way to display your artwork. Xreart frames are handcrafted framed artworks. You can stand framed on an easel, a mantelpiece, on floating shelves, or on the floor leaning against a wall. This creates a casual look and also allows you to change your arrangements more easily and without damaging the wall.
2. Decide Where to Hang
Second, decide where you want to hang your artwork. Should you choose a living room, work area, or bedroom wall?
As the living room is the main place of communication between our family and guests, it is important that the style of the painting fits in with the décor and the main home style, in addition to choosing the desired framed painting.
Decorative paintings are usually hung in conspicuous places such as entrance halls and guest dining rooms in order to achieve the effect of enhancing home decoration. However, with the refinement of design and aesthetic sensibilities, many people have started to hang some of their favorite decorative paintings in the bedroom to make the resting space more peaceful and welcoming.
The number of decorative paintings in the bedroom is not in abundance, even if it is more, but they must be placed in place so that they can play the role of a finishing touch to the bedroom. Too many bedroom paintings will make people dazzled, one or two carefully selected bedroom paintings will be enough, which will make the whole space look atmospheric.
Our workstations are generally used for our work and study, and our frames are perfect for all types of people, whether you are a gamer, digital enthusiast, student, white-collar worker, etc. You can choose from our picture frames, which are available in various collections.
For Example, phone teardown frame, game console teardown frame, smartwatch teardown frame, and media players frame. You can find one of your favorites.
3. Hang Art at Eye Level
A good rule is to hang artwork so that its center is at eye level, for easy viewing. Eye-level, on average, is 57 to 60 inches off the ground.
You may want to hang your works lower if the room has a low ceiling, or in a living room, because its occupants are often sitting, so their eye level isn't as high.