Blog
In 2022 there are people who remember Nintendo Gameboy 1989?
Jun 22, 2022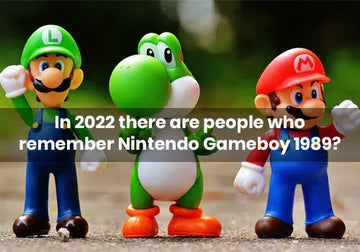 The development process for Nintendo
In 1889, on September 23, one of the giants of the video game industry, Nintendo, which is now also leading the game industry, was quietly established under the initial name "Nintendo dominoes" by its founder, Hajiro Yamauchi, and the company was first established to produce and sell a card game called Hanazono in Japan.
In 1965, after the handover of several generations of presidents, Nintendo began to contact the electronics industry, began to develop primary electronic toy products, and hired highly paid college students in science and technology, the first electronic toy "Super Monster Hand", developed by Junpei Yokoi.
In 1969, Nintendo officially established the game department, focusing on the development of electronic toys, the most famous being the "ray gun" and "super monster hand".
In 1973, Nintendo expanded the concept of the ray gun and developed the "laser body shooting system", which was applied to "Wilderness Gunner" in 1974.
In 1975, Nintendo's developer Hiroshi Yamauchi began to develop a game device that could be connected to a TV, and Atari had already achieved some success in the same field during the same period. Magnavox authorized Nintendo to be able to produce and sell the Magnavox Odyssey (Odyssey game console), which was manufactured with the assistance of Mitsubishi Mechatronics.
On June 1, 1977, Nintendo launched its own television game platform, the "Color TV-Game" series, developed in cooperation with Mitsubishi Electric, a built-in game device that did not require a cartridge, and the series garnered over one million sales. At the same time, Junpei Yokoyi noticed that people were bored on the Shinkansen and came up with the concept of "a small game console to pass leisure time".
In 1980, Nintendo launched the handheld portable device "Game&Watch", a handheld game console with only one game each. In the same year, Nintendo began to develop arcade games, adapted to its own ray gun, represented by "Purgatory Fire" and "Steve".
In 1981, Nintendo releases Donkey Kong, an arcade game developed by Shigeru Koumoto, the most popular game of the year, in which the big-nosed carpenter is also Mario, who is very hot later.
In July 1983, the milestone FC game console (Family computer) was released, which was called "red and white" in China, and the first game of the classic game IP Mario, "Mario Bros.
 There will always be people who remember gameboy1989
Time has seen the development of Nintendo, yet some people will always miss 1989.
This one of the most classic Gameboy records the need for beautiful moments, and we disassemble and frame it through hand tools to make this console a work of art that can be displayed.