Blog
Unique and temperature Father's Day gifts to give in 2022
May 27, 2022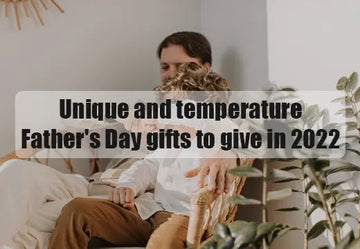 When I was a child, my father was like a superman, soda can not be unscrewed, he always can unscrew it; what is broken at home can be miraculously repaired;  lying on his thick shoulders will have an endless sense of security, he can tell me a lot of powerful things.
    Time, leaving traces on my father's face can also take away the spiritedness that was once in his body. When he faced new things, became to disdain resistance. The new smart TV, they can't open without my help. He would be angry and throw the manual into the trash. He slowly began to learn to grow flowers and plants, but intentionally or unintentionally away from high-tech household appliances.
Unique and temperature Father's Day gifts to give in 2022
   Happy for my father's change, this Father's Day gift I plan to send an iPod touch frame to hang him in my father's workplace. This product is very meaningful to us, and it is a change in father's turn. I hope to preserve our memories in this way.
    Xreart Studio takes aging, disassembled devices and turns them into intricate works of art, laying out the electronic innards in a lab-like fashion within a frame. As valuable collectibles and gifts for tech fans.  In this way, they can help people permanently preserve the tech products that are of special significance to them.
    Perhaps they fail to keep up with technology and catch up with trends. The coldness of today's technological progress lies precisely in the abandonment of the elderly. But we should not forget that technology should have a temperature, technology is not the patent of the young, technology should be so that everyone can live a better life. 
    We chase geeks, laugh at laggards, celebrate every technological advancement of mankind, and fill our lives with these technologies. But we forget one thing, technology should originally have a temperature. My father is old and does not want to be a burden and a liability to you, but behind a face of disdain is a helpless sense of loss. Do you want to be abandoned by technology because you are getting old? As these can let the father find confidence, there is a temperature of digital products, as long as you pay attention to find, these small things will bring warm change to the father's life.