Blog
Select a Cool Home Decor for Dad if He Wants Nothing
May 26, 2022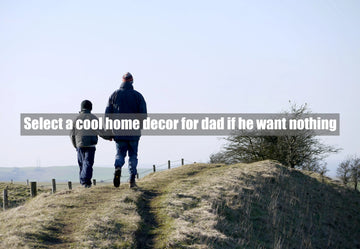 When are Father's Day and history?  
   Father's Day is held on the third Sunday of June in 2022. It is a day to honor fathers and father figures, such as grandfathers and fathers-in-law. Many people make a special effort to visit their fathers or to send them a card or gifts.
    Father's Day is a holiday honoring fatherhood and paternal bonds, as well as the influence of fathers in society. In Catholic countries of Europe, it has been celebrated on March 19 as Saint Joseph's Day since the Middle Ages. In the United States, Father's Day was founded by Sonora Smart Dodd and celebrated on the third Sunday of June for the first time in 1910. The day is held on various dates across the world, and different regions maintain their own traditions of honoring fatherhood.
Express your love and gratitude to your dad.
    I believe that whenever you ask your dad what he wants as a gift, he will say he doesn't need anything. Let's be clear that before he became a father, he was a boy, a young man, your mother's husband, a man who loved life and enjoyed it, he would also like games and fun gadgets, the first game console he owned as a child, the first Apple phone he owned when he grew up, all these things full of memories. If you bring an electronic artwork frame to your father's eyes,  I'm sure he'll be especially surprised.
     Now your father also has his own home, when he comes home from a busy day and wants a cozy space, a space where he can rest, when he sits down he can see this set of souvenirs you gave him when he will think of you every time he sees it, even though your father does not need anything, but the gift you gave him is always with him, he will feel that his child has been missing him and will be very happy. We have selected a few art frames for electronic devices that you can prepare for your father before Father's Day comes. Select a cool home decor for dad if he wants nothing.
The home decor we recommend
1, Xreart IPhone 1st Generation Frame
Set up a special corner in your home for all the things he loves to do – tear down, read, listen to music, paint, a small space to do gardening, and a lot more. Make sure it's a space with plenty of natural light.
2, Memories of childhood-Nintendo Game Boy Pocket
 Create a special corner for his hobbies.
3, Incorporate Father's Day Decoration Elements In The Common Areas

A great way to let your dad feel great on this Father's Day is by adding different decoration elements in the home's common areas. In our years of home interior design experience, we see that most dads take a back seat when it comes to choosing the interior design style of their home. Therefore, this Father's Day makes a design arrangement in your home's common areas to include elements that appeal to your dad. Like adding a ping pong corner right at the heart of your home or the living room. You can also add a poker set up in your dining area for your dad to enjoy some boy time with friends and colleagues. Trust us, your dad is going to love this as you take him back to his bachelor days!
4, The most classic Apple Phone - the iPhone 4s. 
iPhone4S is off to a great start with more than four million sold in its first weekend—the most ever for a phone and more than double the iPhone 4 launch during its first three days. iPhone4S is a hit with customers around the world, and together with iOS 5 and iCloud, is the best iPhone ever.
5, Put A Bold Floor Lamp In The Corner
This little corner is sleek, stylish, and perfectly handsome as is, thanks to the modern leather lounger and graphic rug. But that floor-to-ceiling lamp is an architectural stunner that really brings in that added wow factor. Look for a floor lamp that doubles as artwork for a similar vibe.