Blog
The Yellow iPhone 14 and iPhone 14 Plus are Here!
Mar 10, 2023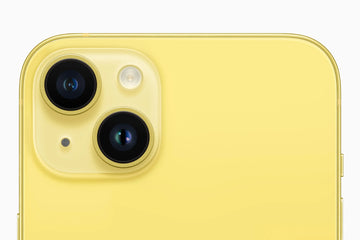 Apple introduces new bright spring colors for iPhone 14
With rumours circulating about the new features and upgrades, fans and enthusiasts are eagerly waiting to see what the tech giant has in store. One of the rumoured features that have been creating a buzz is the possibility of a yellow colour option. On March 7, Apple announced the launch of the new yellow iPhone 14 and iPhone 14 Plus, adding even more colour options to the product lineup this spring.

Yellow is a bold and vibrant colour that is known to evoke feelings of happiness, optimism, and creativity. It's not a colour commonly associated with smartphones, which makes it a unique choice for the iPhone 14. Apple has a reputation for releasing its devices in a variety of colours, including some unconventional ones like purple and green. The addition of a yellow iPhone 14 would add to their already impressive lineup.

When it comes to specs and features, the A15 bionic brings powerful, professional-grade performance to iPhone 14 and iPhone 14 Plus. The 5-core GPU enables faster processing of complex workflows and smoother image processing for video apps and high-performance games.

One potential downside of a yellow iPhone 14 is that it may not be to everyone's taste. Some people may find the colour too bold or not to their liking. However, the beauty of having multiple colour options is that there is something for everyone. If yellow isn't your thing, you can opt for one of the other available colours.

In conclusion, a yellow iPhone 14 would be a welcome addition to Apple's already impressive lineup. It would add a unique and eye-catching colour option to the mix, while still delivering the same high-quality performance and features that Apple is known for. Whether you're a fan of the colour yellow or not, it's exciting to think about the possibilities that a yellow iPhone 14 could bring.
XreArt Tribute to a classic:
| | |
| --- | --- |
| | The iPhone 1st Generation has become a legend in many people's hearts, and by making them disassembled tech art, their spirits are revived. Through these framed artworks, people can perceive the changing eras and the founder's unparalleled ambition. |
|   |   |