Blog
How much do you know about Gameboy Color?
Dec 15, 2022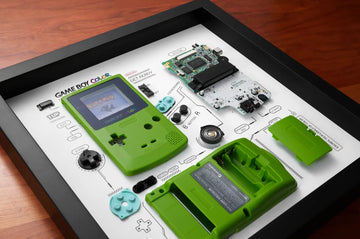 The Game Boy Color is a handheld game console, manufactured by Nintendo, which was released in Japan on October 21, 1998 and to international markets that November. It is the successor to the Game Boy and is part of the Game Boy product line.
Game Boy Color is part of the range of portable powerhouses that revolutionised the way the world plays games. Over thirteen years, Game Boy has become the planet's most loved handheld with over 100 million units sold. Game Boy Color brings a ravishing rainbow of over 32,000 possible colours to the bright 44 x 39mm screen, along with twice the processing power of its monochrome sibling.
Technical specifications
Model colors
The logo for Game Boy Color spells out the word "COLOR" in the five original colors in which the unit was manufactured: Berry (C), Grape (O), Kiwi (L), Dandelion (O), and Teal (R).

Another color released at the same time was "Atomic Purple", made of a translucent purple plastic similar to the color available for the Nintendo 64 controller. Other colors were sold as limited editions or in specific countries.
Of course, the most interesting thing is that in '98 Nintendo released two particularly interesting peripherals to gameboy, the camera pocket camera and printer pocket printer. connected to the host, you can take pixel-style photos, but also print out.
However,Nintendo formally announced the release of the Game Boy Colour on 10 March 1998.
Production of the Game Boy Color was discontinued on March 23, 2003.
XreArt Retained Art
XreArt reuses discarded Gameboy Color devices to make Gameboy Color  frames that retain the nostalgia of the era while also serving as a work of art.
The disassembled gameboy color art is a perfect decoration for your modern or minimalist house.
XreArt Studio hopes that, in this way, we can help you permanently preserve the tech products that are of special significance to you.