Blog
Do you know the XreArt DIY Combo-iPhone 2G teardown method?
Dec 02, 2022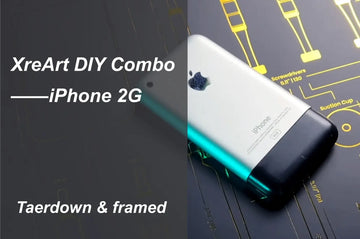 XreArt DIY Combo-iPhone 2G Teardown Guide
Here is a tutorial about tearing down the iPhone 2G. If you order XreArt DIY Combo iPhone 2G,but you don't know how to tear down, you need to refer to this article content. We will teach you how to disassemble the iPhone 1st generation and make it become an iPhone framed artwork. Click and find useful tear down iPhone 2G guidance.
First,please check out your combo inbox include these:

1* Frame
1* Old Phone (Battery removed)
4* Screwdrivers
1* Tweezers
2* Glue
1* Brush
1* Opening Pick
1* Suction Cup

1* Spudger

 
All tools is ready,let's hurry up and get started!
STEP 1
Remove the card reader slot. Push a paperclip into the hole on top, and the card reader slot will come out (you may have to apply more force than you'd expect).
STEP 2
Use our "Spudger" removed the black antenna plate first.
You can see the grounding screw on the back panel holding the antenna cable and connecting the front and back case.
STEP 3
Use the orange "Opening Pick" separating the front and back case.
There's a headphone jack cable to disconnect before you can completely remove the back panel.
STEP 4
You can see at least two antenna cables connecting to the logic board.
"Tweezers"
disconnecting the two antenna cables.
NOTE:Because DIY combo iPhone 2G removed battery,if your want to know how to removed battery,you can read
《Original iPhone teardown and framing tutorial》
STEP 5
"Screwdrivers" removing three screws securing the logic board to the front panel.
Removing the camera on the top of the phone.
STEP 6
Removing ten screws around the perimeter of the iPhone.
STEP 7
Lifting up the logic board. There are three connectors underneath. (speaker, touch sensor, and display cables)
Disconnect the onnectors.
Flip up the retaining bar to free the dock connector cable.
STEP 8
"Suction Cup" attach and detach the display
STEP 9
Use cleaning tools remove excess tape and dust.
STEP 10
Follow the template board,find correct position.
Finally use "Glue" to fix it.
Well,perfect iPhone 2G disassemble wall artwork finished.
Follow more DIY video follow our
Youtube
channel.