Blog
Got an old iPhone 4s? Turn it into a framed artwork
Aug 06, 2021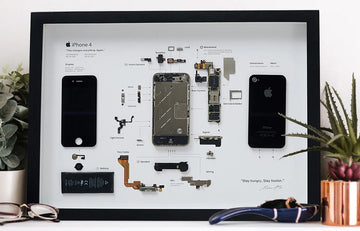 Do you have an old iPhone lying around your home? Wondering what to do with your old iPhone? Don't just throw it in a drawer--you can sell it, recycle it, even turn it into something cool!
Every iPhone has been our bosom buddy for years. It takes part in almost every important occasion in our life. Impress and inspire your memories by reconstructing the old iPhone on a framed wall art poster. This tech frame with deconstructed phone parts is perfect for display your memorable device. Your old iPhone can be turned into a beautiful wall decoration.
A perfect gift for your geeky relatives and friends!
Turn

 

Your iPhone

 

into a Handheld Game Console
Even old iPhones can handle a few games. If you're worried about running out of battery on your main device, a spare one dedicated to games isn't a bad idea. If you're a parent, you might also appreciate having an iPhone loaded with distractions to whip out whenever you need it.
Even if it's a few years out of date, it's a good idea to have a dedicated device to play games. Apple Arcade is an upcoming premium game subscription that features over 100 new and exclusive games. It will release some time after iOS 13, which also adds native support for Xbox One and PlayStation 4 controllers.
Turn

 

Your iPhone into a Smart home or Apple TV Remote

With Apple's Home app, you can control your various HomeKit-compliant smarthome devices. If you want a single "terminal" the whole family can use, why not use your old iPhone? You can leave the device to charge in a cradle or on a wireless charging mat and use it to dim the lights or adjust the temperature.
You can also use your old iPhone as a fully functional Apple TV remote. Go to Settings > Remote on your Apple TV to pair the remote. In many ways, an iPhone works better than the standard remote because you can type text via a software keyboard. If you lost your Siri Remote, it certainly beats paying Apple to replace it.
Use Your iPhone as a Driving or Hiking GPS

The worst thing about using your iPhone as a GPS is the fact that it's also a smartphone. Not only does the battery drain twice as fast, but if you receive a call while you're navigating an unfamiliar location, your iPhone pauses its GPS duties.

So, why not use your spare iPhone as a dedicated GPS? You can navigate offline with many apps, including Apple Maps, Google Maps, and MAPS.me. You can download route information from Apple Maps to use offline. To do so, connect to the internet, find the route you want to take, and then tap or click "Go."
Make Music with Your iPhone

The iPhone has an impressive library of music-making apps. These include dedicated audio workstations, like GarageBand, easy to pick up tools, like Auxy, and dedicated software instruments and guitar processors, like Animoog or STARK. You can also create a custom touch screen MIDI controller with TouchOSC.
A spare iPhone could fit nicely into your music-making workflow as a dedicated amplifier simulator or synthesizer connected to a MIDI keyboard. And you don't need to worry about receiving calls or filling up the internal memory with anything other than your favorite creative apps.
Turn Your iPhone into a Security Camera

You can also use an old iPhone as a security camera. There are several apps you can use both to live stream your camera or save footage to the cloud for later perusal. For this to work, you need to mount the iPhone somewhere suitable and keep it powered with a Lightning cable.
The apps you can use to do this are AtHome, Presence, and Manything. They are premium products, so you might have to subscribe to get the most out of them. But they offer features like automatic movement detection (with AI that differentiates people from shadows), two-way talk to a connected camera, and support to view multiple cameras simultaneously.
Turn Your iPhone into a Webcam

The iPhone is an ideal webcam thanks to free apps like EpocCam. First, download the app on your iPhone, and then install the companion app for Windows or Mac from Kinoni. Next, connect wirelessly over a local network or via a Lightning cable.

Since most devices come with built-in cameras now, webcams are a bit outdated. However, with EpocCam, you can broadcast via your computer from anywhere within the range of your Wi-Fi network. You'll never buy a webcam again.
Make It Your New Kitchen Assistant
While an iPad makes more sense as a kitchen assistant, an iPhone 4s can work wonders on the counter, too. You can put it on a flexible mount and keep it charged, so you can watch cooking videos and easily follow recipes you find on the web.
You can even ask Siri to convert measurements or check ingredient substitutions when your hands are full or messy.

For me, the old iPhone connects us with friends, helps broaden our minds, and keeps a record of our inspirational moments. It deserves to be framed, well kept, and be our lifelong partner, instead of being left in a forgotten corner. I wish it could be shown as a piece of artwork that brings us everlasting surprise and happiness. It could be back to our living room, study room, office desk, bedroom, or every corner we'd like to have. What do you think?


https://www.howtogeek.com/438365/what-can-i-do-with-my-old-iphone/

https://methodshop.com/uses-old-iphone-or-ipad/